Stop by first thing in the morning before hitting the slopes in the best condition!
A fun snow sport experience starts with thorough maintenance of your snow gear.
A good waxing before you hit the slopes will ensure your skis or board perform at their best, allowing you an unbeatable skiing or shredding experience.
If you plan to stay at village accommodation and send your gear to our shop in advance, you can pick up your gear from the shop immediately upon arrival.
Stop by our shop before you hit the slopes so we can do a tune up in a way that best suits the snow conditions that day.
Manual tuning: Leave your skis or board with us overnight and we will do a tune up the next morning.
Machine tuning: A tune up will be done in about ten minutes after we receive your gear at the shop.
*Please note that we may ask you to wait during peak hours.
Course
Machine wax
Edge
WAX FUTURE
WAX FUTURE + Edge
Sanding
Recommended for those who want to go skiing right away.
Adjustable angle
Recommended for those who want more glide and sustainability
Recommended courses, new boards are also eligible, oxidation of the sliding surface
For scratched boards only
Rate
¥500
¥1,000
¥2,000
¥3,000
¥6,000
Cleaning
Machine wax
WAX FUTURE
Base repairs
Sanding
Base edge
Side edge
Dulling
Minimum Finish Time
10 min.
15 min.
Delivered the next morning
If you wish to have the edge hand-finished, + ¥1,500
All repairs – Prices vary according to the severity of the scratch or defect
Base repair only …¥1,000~
The sanding course will be applied for larger scratches that need sanding
Base and top-sheet peeling …¥2,000~
Attachment of ski bindings …¥3,000
For repairs, prices vary according to the degree of damage.
Feel free to ask us for a quote.
WAX FUTURE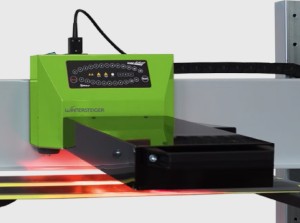 At NOZAWA Sports Thanx, we use the latest WAX FUTURE for all waxing services other than speed waxing.
Wax is applied using infrared heat, which enables the wax to penetrate deeper into the base than when using an iron, and makes the wax last approximately three times longer.
This also protects your skis and board as an iron is not directly pressed against the base and does not cause any damage.
WAX FUTURE is a cutting-edge technology that is widely used by Olympic and World Cup players. We will be offering WAX FUTURE for 2,000 yen this season. Come try it out!
Machine wax
Get a waxing done first thing in the morning to enjoy the snow in the best condition all day.
We use a heated roller for a thorough application of wax in no time at all.
Edge work
We offer a quick edge tune up including an adjustment of angles.
The wax we use
At NOZAWA Sport Thanx we do not use fluorine based wax that has been banned in international races due to environmental issues, and instead use BRIKO SUPER MIX, an environmentally friendly wax that is also known for its smooth glide.